Septic Tank Pumping in Miami

Septic Tank Pumping in Miami-Dade and Broward Counties
Welcome to Affordable Septic Solutions, LLC! Our experienced septic tank specialists have been pumping the commercial and residential septic tanks of Miami-Dade and Broward counties for over 25 years. We know what we are doing and we get the job done right the first time —we're number 1, with your number 2!
Septic Tank System
Septic tanks systems are designed to be the main wastewater and sewage treatment structure for homes and buildings in rural areas without a centralized sewer system. This also applies to homes or buildings that were built prior to the establishment of community sewer systems or those areas where community sewer systems are not practical. One-third of all Florida homes, or approximately 1.6 million, use septic tank systems —that's a lot of waste!
The septic tank system separates floatable matter (oil and grease) from wastewater (from laundry, toilets, and sinks) and solids, sludge. The liquid, effluent, is released via perforated pipes into a leach field, drainfield. When septic tanks fill with sludge, it may cause backups in the home or building's plumbing system or it may overflow into the drain field, which is dangerous to both the environment and the health of people.
Septic Tank Pumping
How often should I pump out my septic tank?
Septic tanks collect solid waste that leaves your home, where it settles on the bottom and is digested. It stands to reason, that over time, the septic tank will need to be emptied every so often to ensure it does not overflow or backup. With regular residential use, your septic tank should only need to be pumped out every couple of years but will depend on the number and frequency of use. For instance, if you have a residential septic tank and are the only inhabitant, you may be able to go ten years between septic tank pump outs, but if you have a family of six or have a septic tank at a commercial building, you may need to have the septic tank pumped annually. If you flush anything other than waste or if there is a heavy volume of solid waste, you may need to have your septic tank pumped more frequently. Regular septic tank maintenance, repair, and pumping are extremely important to the health of your septic system. For signs that your septic tank needs emptying, read more here.
Pump Out Septic Tanks
When septic tanks become full of sludge or solids, it must be removed. While some sludge will break down over time, the majority of it will settle and collect at the bottom of your septic tank. Septic tanks are pumped out using large vacuum trucks. A hose is lowered directly into the septic tank and sludge is withdrawn. This helps keep the sewage in a closed system and avoids making a mess. The sewage and wastewater that is pumped out of the septic system are then transported to a wastewater treatment plant to be treated along with community sewer waste or it may be taken to a disposal field where it is stabilized and used for fertilizer.
Septic Tank Pumping at Affordable Septic Solutions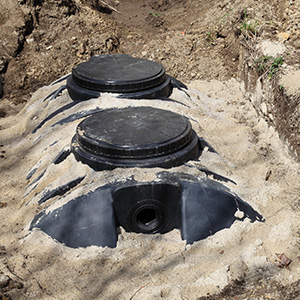 At Affordable Septic Solutions, we offer septic tank installation, maintenance, and pumping to help keep your septic system operating smoothly and preventing backup or overflow. When we pump out your septic tank, we also clean your septic system using high-pressure jets and snake outs to ensure we remove all of the waste and leave behind a clean septic tank system. While we are cleaning your septic system, we will perform an inspection to identify any hazards or potential problems. Our specialists are equipped to handle any repairs that may be necessary. We also install, manage, and repair drain fields.
For more information about the services we offer, check out the full list here. If you have a septic tank system, or you need septic tank pumping near Miami, give us a call today!